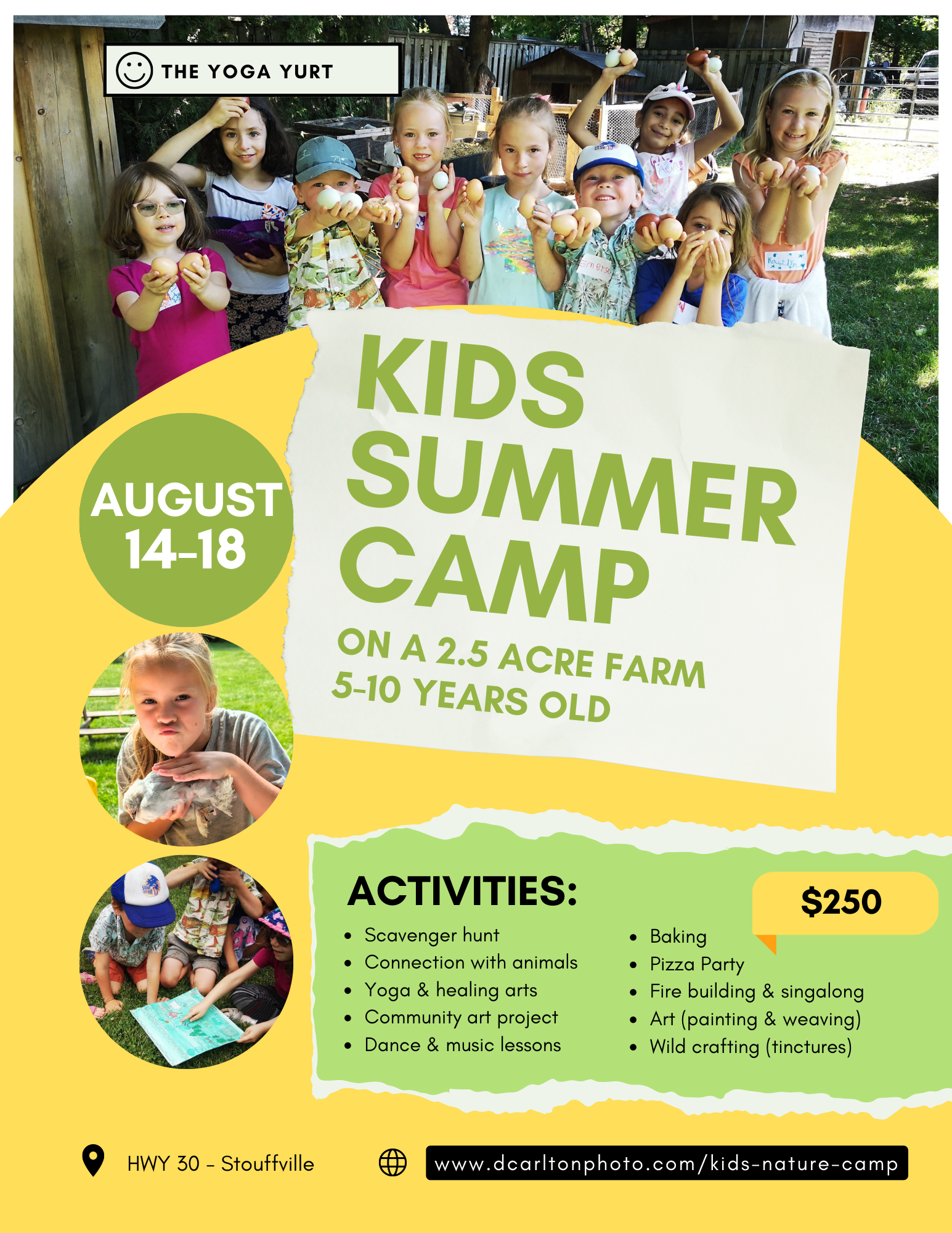 Welcome to my exciting kids' summer camp
located on a charming small farm in Stouffville!


This summer camp is dedicated to fostering character development and building confidence in children. With a wide range of activities, including yoga, music, arts and crafts, team building, baking and cooking skills, sports, nature studies, caring for farm animals, wild crafting, and more, your child will have an unforgettable summer filled with fun and personal growth.
At my camp, we prioritize creating a physically and emotionally safe environment where your child can thrive. My experience and care ensures that every child feels supported and encouraged throughout their journey. Through engaging activities, I aim to instill values such as teamwork, respect, and responsibility, while also nurturing their individuality and self-expression.
My yoga sessions provide a calming and centred experience, helping children develop mindfulness and body awareness. Music and arts and crafts allow them to explore their creativity and develop their artistic talents. Through team-building activities, they learn the importance of cooperation and effective communication. Baking and cooking classes teach valuable life skills and encourage a love for culinary arts.
In the sports programs, children can enhance their physical fitness, build coordination, and develop a sense of fair play and sportsmanship. Nature studies immerse them in the wonders of the natural world, fostering a deep appreciation for the environment. Caring for farm animals teaches empathy, compassion, and responsibility towards living creatures. Additionally, wild crafting activities spark curiosity and teach children about the resources nature provides.
Join this seasons kids' summer camp and provide your child with an unforgettable experience of personal growth, skill development, and endless fun. I look forward to creating cherished memories in a supportive and enriching environment!
​​​​​​This is a drop off program running August 14-18, 2023.
Drop off is 9:00am - Pickup is 3:30pm

Fresh snacks are provided.
Each child is required to come with a lunch of their own, except for Friday;
the kids make their own customized personal pizzas.

All supplies and equipment are included.
Camp cost: $250/child


*prices subject to HST
The Yoga Yurt, Uxbridge/Stouffville
Located on Durham 30 in a quiet area surrounded by forest and farmland,
The Yoga Yurt is the perfect backdrop for our week long summer camp.
The land is home to chickens, rabbits, pigs, coniferous and deciduous forest,
food garden, and many naturally growing medicinal plants.
The property has a traditional yurt, glamping tent, playground, trampoline, low ropes, sand box and lots of open space to play. The schoolhouse is used for teaching the kids baking skills.
SCHEDULE FROM MY JULY CAMP